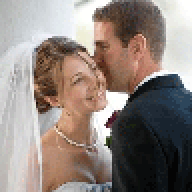 Joined

Mar 20, 2006
Messages

1,724
Back when I first got engaged, my MOH went through the calendar and carefully planned out dates for all associated events (engagement party, shower, bachelorette party, etc)... yes, she is a quality MOH.

She was/is a bridesmaid for a few other 2006-2007 weddings, so she wanted to make sure everything fit with no overlaps.
Well, a few months later, one of FI's close friends announced they were planning their wedding for April... two weeks before ours, and the weekend we'd set aside for my b-party. Bummer. There were no other good weekends that worked (SO much going on this spring) and given that I'm not really a "wear a fake veil and go out and drink from questionably-shaped straws and be the center of attention" kind of person (I don't even like attending those, much less having my own), we were having trouble coming up with a fun and unique but low-key alternative idea. So she promised to think about it...
... and an hour later, emailed me in excitement to suggest "what about planning a trip, just us??" UMMM, absolutely perfect. We have been friends for over 10 years and taken countless trips together over the years... from weekends at the beach to a semester in Europe. We also specialize in rehashing the same memories from those trips over and over and over and over... much to the dismay of my poor fiance, who is usually forced to listen.

So now we're planning one last single-girl trip... out to LA for 5 days to stay with a friend. And I am suddenly SOOO enthused about my new b-party!!! Just wanted to share...

Any one else planning "alternative" bachelorette parties??