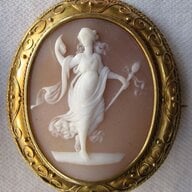 Joined

Apr 17, 2002
Messages

3,997
I mentioned this ring on French Blue's thread about her faux green garnet, and she asked to see pictures, so here goes.
I bought this ring at my favorite flea market. It's set in unmarked sterling, and the black onyx surrounding the center stone is cracked in a couple of places. The seller had it in her junk tray and was apologetic about charging me $15 instead of the usual $5, but explained that it's a heavy silver piece, probably sterling. (Maybe I'm misremembering--she might have charged me $8.) She said the stone was real onyx. I think she meant that the center stone was real onyx as well as the black stuff surrounding it.
She's wrong--the center stone is a natural star sapphire. Bluish gray, translucent, with a strong, sharp, well-centered star with a crooked leg. (If those are technical terms, I might be using them incorrectly--I'm just describing what I see.)
I find this ring very mysterious. When was it made? Who by? Where? Why? I've discussed it with various jewelry friends, who all have different opinions. One thinks it's from the 1910s-20s, arts & crafts. One thinks 1930s-40s. I think 1970s art nouveau revival, myself, and I find the setting hideous. It's particularly unattractive on my hand. It's clearly a woman's ring--it's small enough that I have to wear it on my pinky, but it's clearly never been sized (the pattern goes around the back uninterrupted)--but it has that chunky man's ring look, except for the tulips.
If anyone wants to speculate about when/where it might have been made, I'd love to hear your thoughts!