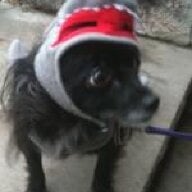 Joined

Jan 4, 2011
Messages

362
My sincerest apologies for the delay. It's been a whirlwind week and a half and I've had a tough time taking great photos. If you haven't heard my engagement story you can find it here:
https://www.pricescope.com/community/threads/im-officially-off-the-liw-list.159561/
Just a quick refresh to my story: my FH was on a time consuming project and promised to begin the diamond hunt after the project. Well, his project ended on a Tuesday and I found, what I thought was, the perfect stone on a Wednesday- ha!! As to not waste any time, we set up a meeting with
James Allen
to see the 3 stones. When we went to look at the stones they showed me the first stone and it was a 1.25 GIA E SI1 with strong fluorescence. I know the milkiness only shows up in some high colored stones and the gemologist said it was somewhat milky in the sunlight, but I definitely saw a difference between the 3 stones and decided that this one would not be for me. It also didn't hurt that, face up, I didn't see a huge difference between the E, G, and H (the FH did and he loved it. Oh how I love that he has an opinion on diamonds now). The next stone, I was told, was the GIA 1.34 G SI2 with twinning wisps. Well, it looked so clear to me and I thought- this might be the one- the AGS might be out the window. Then something funny happened- the gemologist put the stone and the scale and then apologized for telling me the stone was the GIA because it was actually the AGS!! That's right- I fell in love with the AGS without knowing what it was!! After that she showed me the last GIA stone (and I realized that I hate twinning wisps) and she brought back out the AGS stone so I could review it. The stone was, to my eye, completely clean. There was a feather on one of the edges which I saw with the loupe that she said could be partially pronged. I actually loved our gemologist because she didn't fawn over the stone (like I would have loved her to) she was just honest.
So it was official- I was in love (and so was FH) but I had major concerns: it was an SI2 but eye-clean to me- was I just being delusional? She said the feather was very thin and not a durability risk but what if she was wrong? So many thoughts were swimming through my mind but FH and I knew- we had found the one. We sent it to get mounted and waited not so patiently. When the FH got it back he said all the right things: it was breathtaking, stunning, gorgeous, sparkly- but I was not satisfied. I wanted to see it myself!! But after some thought (and help from the PS folks) I decided that I would like to see the ring when he's ready to give it to me.
He went to get it appraised (he chose an appraiser from PS) and the appraiser confirmed one of my sneaking suspicions: he said that the plot was a bit misleading and that the stone was harshly graded. He said, if we wanted, we could send the stone to get graded by GIA and he was positive that it would come back as an SI1. It confirmed some of what I had read here on PS- AGS can sometimes grade clarity harshly. Well the appraiser made my day- he confirmed that this was a great find and put all my worries to rest. I may send the stone to GIA one day if/when I decide to reset the stone but for now, I'm more than pleased with our find. I have been spending hours scrutinizing the ring for any inclusions but I certainly cannot see any face up. I can see the partially pronged feather if i take the ring off and tilt it a certain way up to the light- it looks like a tiny white-ish/clear dash- but I don't mind it and love that I can spot my diamond in under 5 seconds.
Now, without further ado, the specs and the pics:
Round Brilliant
Carat Weight: 1.32
Color Grade: H
Clarity Grade: SI2
Depth: 61.2 %
Table: 55.4 %
Crown Angle: 34
Pavillion Angle: 40.7
HCA Score: 0.8 Ex/Ex/Ex/VG
(I was a little annoyed with that last VG but decided that I couldn't let this stone get away because of one VG...)
Ring Size: 4.5 (Might need to size up by .25 or .5- sometimes it's a perfect fit but in the mornings and when it's muggy out it looks a little tight- you can see it in one of the pictures below)
Setting: 2 mm Knife's Edge 18kt
JA
setting. I love the setting- it's super sleek and classic but still feels very modern.
Here are some pics: I have a few more at home that I'm having trouble loading but didn't want to push this off any further: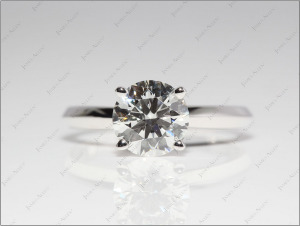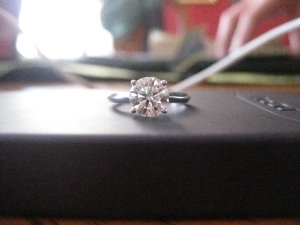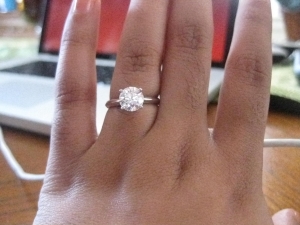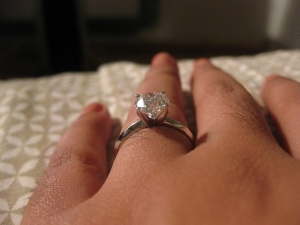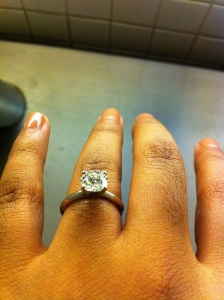 I'll post a few more later if I have better luck with my camera. Thanks for reading and looking at my ring!