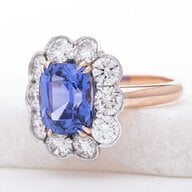 Joined

Jan 9, 2006
Messages

6,497
This little topaz has been sitting in mum''s jewellery box for years. My grandmother bought me a ring for my 13th birthday that had this stone in it. It fell out not long after, and I thought I''d lost it, and had it replaced. I was sad that I couldn''t replace it with one the same shade of blue, but managed to get one I liked. A few days later I found the original stone on the floor of the car! Not long after my birthday my grandmother, who I was extremely close to, suddenly and unexpectedly passed away in her sleep at the age of 66, so quite young. So there''s sentimentality attached to this stone for both of us, so I decided to have it set for mum for her birthday, which is on Valentine''s Day. We''re surprising her with dinner at a local winery and the set stone!
The stone is nothing flash, really, but a very pretty baby blue and quite sparkly. Mum adores classic, fine solitaire settings, and I managed to find this premade one online. My jeweller set it for me, and there she is! Mum hates it whenever we buy her gifts for her birthday, so at least I can argue that she already had this one

I''m sure she''ll really like it.