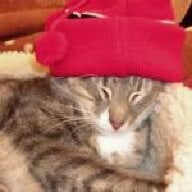 Joined

Aug 14, 2009
Messages

20,091
The summary:
Hisano is a magician!!
The longer version:
Several years ago I decided I needed a cherry tahitian bracelet. A rep from Pearl Paradise selected a lineup and shipped them out to me, and… I was thoroughly disappointed - they looked dull and grey in-person. I decided then that tahitians Just Weren't For Me.
Fast-forward to Spring 2019… After hours upon hours on Show me your Pearls and Pearl-Guide, I realized that
It was sunny the day I got those cherries, and I was right beside a glass wall, and
Precise matching of colour, orient, and strength of orient simply isn't possible, so that's an unreasonable expectation, but
Flawless surface and pin-sharp lustre is possible, and if a company makes that claim I don't need to settle for less-than-exceptional surface texture.
I bought several round tahitian strands from Pure Pearls, The Pearl Source, and Pearl Paradise - some multicolour, some peacock, some pastel, some darker. They were all disappointing: Each strand had one or two pearls that were glorious - excellent lustre, bright body colour, strong overtone - but the majority, well, meh
.
They all went back, and I emailed Inta from LittleH to ask if it would be possible to create a bracelet-length strand composed entirely of those "one or two perfect" pearls.
I was prepared to wait several months. Some weeks later Hisano took over the project, and within a few days sent me fifteen 10-11mm and eight 11-12mm loose stones to look at. And
every single one
was extraordinary.
When originally comparing strands I noticed I was drawn first to pearls with strong overtone and lustre. I suspected I'd be more flexible on body colour and variance in tone, and seeing Hisano's choices and lurking on
@Pinkmartini87
's incredibly helpful thread mostly confirmed those feelings… And now, seeing the finished strand in-person, those were definitely the right choices for me
I've been meaning to post these for several days... Ailing human family and ailing furry family has made this week a challenge. Seeing these photos is making me smile
My lineup!! Makeshift lightbox. The strand is graduated from ~11.9mm to ~10.3mm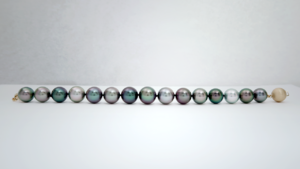 And my very favourite pearl front and centre
if you catch it just right it's bright blue
and
bright pink!!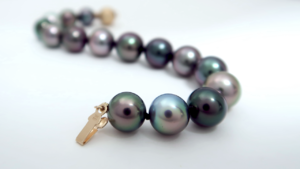 Last edited: