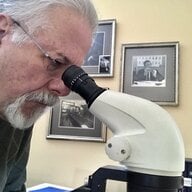 Joined

Sep 3, 2000
Messages

6,624
We have seen a few styles of rings which have the girdles of the diamonds extending slightly past the metal sides of the rings. These have a wonderful, non-metallic look to them, but have a downside which can become a problem. Whenever the girdles are unprotected you set up a situation where another ring worn next to the diamonds will be rubbed or scratched by the diamonds. If this second ring is set the same way, with diamonds extending out beyond the metal, then you have diamond girdles which may rub on eachother. Diamonds rubbing on other diamonds causes scratching, chipping and fracturing of the diamonds. You will have problems over time with such a design.

This can be mitigated, to varying extents, by soldering the rings to one another at the base of the shank so they will not revolve and rub eachother. You can, when necessary, add a tiny spacer near the top or at the shoulders to keep the diamonds safely apart. This is invisible if done correctly, but can do a lot of good for long term durability.

Prongs which keep rings separated may not look ideal, but there is good reason not to allow diamonds to abrade eachother. A good design will take this into consideration, but you should be on the lookout for problem designs when you are selecting mountings.