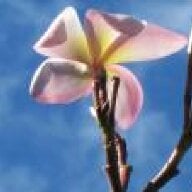 Joined

Jul 27, 2010
Messages

891
My mother has sunk to a new low. She told me that SO is cheating on me-- and if he's not, he's close to doing it. She spouts this out after I clearly told her that I have her on speaker phone and I'm driving. Had to pull over for this one. I hung up on her and texted her saying that if she wants to have a relationship with me, she needs to know her place with this "advice." I'm all for doing "what's best," but she's crossed the line and it's really not best anymore. I told FI about this and he just shook his head. He made a very valid point that if he liked someone, he'd probably tell me -- he's generally too honest with me, so this wouldn't be out-of-character for him. Plus, I've never suspected anything, we live together and are in contact 24/7!

Last week I got tickets to a show for everyone-- mom, dad, sister, FI & me. This would be the first time we're all out together since the engagement. My mom offered to pick us up seeing as we're closer to the theater. She pulls up and horrified, I ask "Where's dad?" She apparently thought I only got 4 tickets and my father wasn't invited. She felt dumb and my father was now working and wouldn't make it in time anyway, so having an extra ticket, she called her friend who speaks very little English. We all watched the show and then went for lunch (matinee showing because I have a little sister). At lunch my mom spent 80% of the time speaking in her native tongue, so as to include her friend in conversation. Unfortunately, this completely distanced FI seeing as he does not speak the language. The next day she called and had the audacity to tell me that he was acting strange, wasn't friendly and wasn't participating in conversation. HOW THE HELL IS HE SUPPOSED TO IF ITS IN A DIFFERENT LANGUAGE?!?!?!? I made this point and she denied it and said that she was speaking English enough, but how could she not speak to her friend who wouldn't understand otherwise? Double standard, much?

After these two things, I quite simply think she's full of Sh*T. I think this is the moment when I realize that my mother's opinion is not always right. She's been pretty good at being right thus-far in my life, but these last two things have shown utter disregard towards me. She might think she's doing the right thing, but I'm now certain that she's wrong.