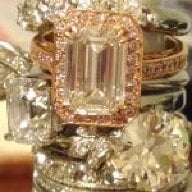 Joined

Jan 8, 2008
Messages

2,362
Decisions, decisions.
I have really become a huge fan of colored center stones with substantial diamond sides.
I just got the 4.63 Tajikistan Spinel and the 6.08 Afghan mint tourmaline from Precision gem today. I have to say I purchased the tourmaline as kind of an afterthought to the spinel because they're the same facet pattern which I'm a fan of but I am really blown away by its loveliness. When I bought it, I figured the tourmaline would be a necklace because it has a significant (but cool looking) veil. I had originally intended to pair my trilliant earrings with the spinel but I think the proportions are far more complimentary to the tourmaline. If I pair the tourmaline with the trilliants I would use yellow gold so it has more color. The trilliant earrings are .99CTW but they face up massive as you can see they are kind of dwarfing the nearly 5ct spinel. I do love the color of the tourmaline but I'm just not sure it's saturated enough to serve as the "statement" ring I'm going for. The spinel on the other hand, is close to eyeclean with a smattering of wee bubbles throughout. The spinel is also a far more valuable stone if that makes a difference in what it should be paired with. I had a hard time getting the spinel to show her good side.
I don't mind inclusions as long as I know exactly what and where they are, they don't pose a breakage risk, and they aren't a weird color. The mint garnet with marquises is the same cut as these two to give you an idea of what they look like set. The round brilliants I'm just messing around with, I doubt they have enough presence to truly set off these big stones.
Anyone have strong opinions? I'm just gonna chew on these options for a while. On the other hand I do think I've come to love the spessartite and emerald cut combination!