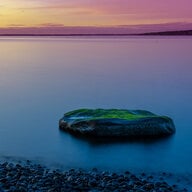 Joined

Jun 27, 2006
Messages

1,526
We''re planning to put our condo on the market next year, so I don''t want to do anything drastic or expensive. When I originally bought the place, I thought about redoing the kitchen cabinets, but I''ve been doing some real estate research lately, and considering the economy and the price bracket we''re in, I don''t think it would really increase the value that much. The building was built in 1940, so it has a lot of vintage moldings, high ceilings, big windows, and the exterior walls are mostly either painted or exposed brick. I want to stay true to that era, and I favor warm and rich colors.
We''re planning to replace the hideous yellow countertops with something more neutral. But what color? I''m worried about a beige clashing with the beige floor and beige walls. But black and white seem too stark?
I was also thinking about replacing the cabinet doorknobs... The knobs now are some sort of ugly oak. Should I get black or nickel finish? Or something else?
Other things I was thinking of doing was replacing the hanging light fixture, and the faucet with something prettier.
Any other suggestions, or suggestions of specific items are more than welcome!!
Here are some photos - view from the dining room, towards the pantry, laundry room, and back door.