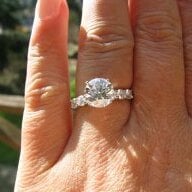 Joined

Oct 19, 2006
Messages

1,394
Okay, so I previously posted about my best friend trying to rain on my parade. She gave me nothing but grief in the weeks leading up to my engagment:
https://www.pricescope.com/community/threads/what-would-you-do-negativity-from-best-friend.54508/
Anyway, so now she's been dating this guy for about two months now. Apparently they went out this weekend and picked out a ring, and guess when she is scheduling her wedding???? - Six, yes SIX DAYS prior to mine

BTW, I am getting married in March, so this means she wll be getting married after dating this man for less than 4 months. We are going away to Hawaii to get married, so it's not like we'll be asking common friends to go to two weddings in a row, but still, it's the principal of it.
Uggggh! Am I overreacting or would you be upset too???