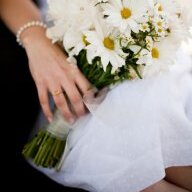 Joined

Mar 11, 2016
Messages

94
Moms, please weigh in! I have a young toddler, and we will hopefully be adding 1 or 2 more in the future. I stay at home with her and plan to stay home with future kiddos as well. Although I'm hopeful to return back to school for a semester or two in between kids, for the most part I will be momming it up full-time with babies and toddlers for the next 5ish years.
I've been wanting a prong setting for my upgrade ring, but am wondering if it will be more practical to have a bezel during the baby and toddler years, and then reset if I still want a prong setting at that point.
If you have prongs, do they ever accidentally hurt your little ones? I think this is my biggest concern with a prong setting. I'm currently wearing a plain band and eternity ring (both cheapie gold-fill as they were intended to be temporary) so it hasn't been an issue. My wedding set hasn't fit since my pregnancy blessed me with permanently larger knuckles.

My knuckles were big to begin with, but now 16 months post-partum I have lost all my baby weight, and my knuckles are still a full size bigger than they used to be. Grr.
Oops bit of a tangent there. Anyway, tell me your experiences with your prongs/bezels fellow moms-in-arms.