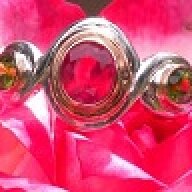 Joined

May 23, 2008
Messages

1,934
I probably shouldn''t even be posting this but here goes. I''m so frustrated with MIL and BIL''s right now. I just need to vent and maybe a little reassurance/advice.
We got married in Vegas on 3/13 and the location was gorgeous, we did things our way and ultimately wouldn''t change a thing. DH and I were the happiest couple on the planet and ecstatic with how everything turned out. It was absolutely amazing!

Now begin the rant; when we were taking pictures with the photographer immediately after the ceremony MIL kept insisting that she be inbetween DH and I for the photos. Of course the photographer made her move. She didn''t like that and one of my bridesmaids told her that she couldn''t come between us anymore, that wasn''t her place. Drama ensued and MIL even went so far as to say that my DH was her (major exaggeration on her, but of course she said MY) son and that if I, as in me-the bride, "ever tried to put the ole'' ball and chain on him she''d remove it herself." We all moved on, let it go, she got pictures with her son by herself and she seemed to be ok. Then we all go to dinner. We get to the restaurant, it''s just your run of the mill Vegas hotel restaurant-I even forget the name, about $10 a plate average and MIL and BIL pitch a fit about the price and LEAVE. Apparently $10 was too much to pay for dinner.

My DH was so embarrassed! They made asses of themselves and it honestly didn''t bother me much. Everyone knew ahead of time that we were having a reception back home and though we''d have loved to, we couldn''t pay for dinner that night. No one else had a problem with anything...that''s why we chose a cheaper place.
Now, we''re having our reception this coming Saturday. When we got engaged BIL offered to do the BBQ and another BIL offered to buy the beer. It was VERY nice of them and we let them know that we''d love for them to do that for us and would gladly pitch in $ to help them out. All they had to do was let us know. BUT last weekend it started. DH gets a call that his mom wants him to ride with her in the car while she drops his nieces off with their mother(4 hour trip). He didn''t want to and told her no, and that we had a lot of stuff to do that day. BIL calls and starts threatening not to help BBQ (like he
volunteered
) for the reception unless DH goes. The next thing I know MIL shows up at our house, never comes in, and DH gets in the car with her and they leave.

DH didn''t even tell me anything.

I figured out what had happened since he''d told me that she wanted him to go with her but last I''d heard he wasn''t going. All MIL did was bitch at DH in the car, she just wanted to have him somewhere where he couldn''t walk away or hang up on her. DH and I have since talked things through (I had no clue as to why he left on Sunday, DH did what he thought was best-he''s just too nice of a guy sometimes). I was so mad on Monday that I wanted to cancel the reception, at the very least move it and do it totally by ourselves. DH was against that and didn''t want to leave so many people hanging or upset his friends and family. I guess now I do see his point but I don''t even want to go. Knowing what the in-laws have pulled so far I can''t imagine what else they have up their sleeves.

Their behavior can''t be normal. Or is it? Am I being a brat? DILzilla?


I just feel like this event is a big black cloud and can''t seem to get excited about. My friends, especially my bridesmaid that set MIL straight the first time, all say they have my back and won''t let her ruin our event, it is our event afterall and not hers. I just keep picturing our reception turning into a Jerry Springer episode.

Sorry it was so long!!! Thanks for taking the time to read it.