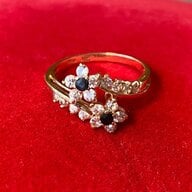 Joined

Oct 31, 2021
Messages

534
You have nothing to lose. With a budget of 5-6k you have plenty of opportunities, I think. You can always see what Inken has available to offer and take it from there.
Re: the stones you're currently looking at.
I cannot justify a 5k pricetag for a ruby with minor residues. For that kind of money you get untreated stones. Or a treated one that's a fair bit bigger.
I find it hard to believe that the octagon cut one would never be pink. It's pink literally in all photos. Now I'm the last person who would complain about a ruby having pink, but it does raise some questions about disparity between descriptions and reality.
The smaller oval looks lovely in pictures but I wonder if it will be a fair bit darker in real life. The octagon is graded as 65 on the scale while this one is 75. In any case this is easy to gauge by asking for more photos.
The larger oval is right up my alley, but I do prefer some pink in the red. They don't mention anything about fluorescence, but it looks to have some. Again, easily gauged with additional photos.
In terms of pricing, I know rubies are going crazy right now, but still, a couple of examples from my recent search...
@VividRed
suggested a lovely 1ct cushion priced at less than 3k. Untreated. More than I was looking to spend, but a wonderful stone nonetheless. It's already gone, be it simply because it was very pretty or because someone was lurking, but still... 3k. Not 6.
@PinkAndBlueBling
mentioned that at the Tuscon show unheated rubies with good colour were in the 3-4k/ct. range which is a significant increase compared to recent years. Yet still not 6k.
I can't help but think that for the money you have to spend you can get something nicer and/or bigger.