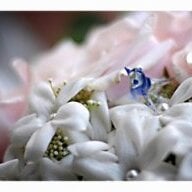 Joined

Oct 12, 2006
Messages

527
OK... I''m going to rely on my Pricescope ladies'' fashion talents to help with a MOB dress...

One of the goals of this past weekend in the States was to find my mom and dress.. and we were very unsuccessful... bummer!

Here are some specs:

She is 51 (well on the 25th she will be), 5''3"-5''4", about a dress size 12/14...

She really would like to have something with a portrait neckline (off the shoulder) and 3/4 length sleeves...but she isnt entirely glued to that.. that is just what is in her head right now...

We''ve been looking at blues/browns/and pale pinks and also black.. although that would be my least favorite color.

Her only request would be for the dress not to be sleeveless.. although if you find a dress that looks fab... I can talk her into it!

Thanks in advance for all your help!!! I cant wait to see what you all come up with!