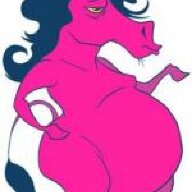 Joined

Apr 6, 2011
Messages

89
Hi
I am on a very strange mission at the moment with my wedding bands
I hope you guys might be able to shed some light on this weird search.
I am a lady who loves the contrast of black and the white diamond.
My FI bought a white gold bead set eternity band with milgrain about 6months ago. The top of the 2mm ring was Black Rhodium plated and I loved it when he gave it to me. But now... the plating has come mostly off and has a sorta grey vibe to it and the d's hardly sparkle at all, only when I just clean it.
My body seems to eat black rhodium for dinner lol!
So I have been on the mission to find another metal that might be used that is black all the way through, hence staying black.
I came across Ceramics and titanium as options, I think even tungsten??
Yet when you search for it with diamonds or a thinner band (i.e. 2mm), there really are not many hits.
It seems to only be a mens realm...
I found this product.
http://www.e-weddingbands.com/store/product168442.html
and a few others with diamonds in the band, which gave me hope that it is possible t have d's put within it yet it seems to only be bezel?.
So here I am. Needing some help on black metal choices and setting options.

My main questions are:
1) why so wide? Can you get a band that is 2mm wide?
2) is it possible to create a ' eternity style' band using ceramics, titanium or tungsten? (black)
3) would oxidised silver even be an option???
Thank you very much for your time, very sorry for the long story but thought it might help if I gave a background.