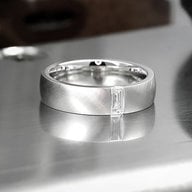 Joined

Aug 21, 2016
Messages

133
Hello PS!
Online research brought me to Pricescope and I've continued to read everything in the knowledge section along with a number of posts to try and better educate myself. However, it seems my questions have led me to even more questions, so here I am.
A 2+ ct miner's cut diamond ring has been passed down to me from my mother. Based on the description, I was lead to believe it was nothing special, but it seems it might be worth more than I originally thought. There is no formal paperwork to accompany it, since it is from 1889. I'm planning to get it certified, laser inscribed with a unique ID and also perhaps appraised for insurance purposes.
My question is where to take it for certification, as I am currently living in Sydney, Australia. I've found two places that could possibly do this for me, but I have no idea how to differentiate between them. Would one certification be more widely recognized internationally than another?
1. Diamond Certification Laboratory of Australia (DCLA),
http://www.dcla.com.au/
2. Australian Diamond Grading aboratory (ADGL),
http://adgl.com.au/
As an aside, how does appraisal work when living outside the US when diamond prices are pegged to the USD (or at least that's what I thought I read)?
Thanks in advance,
SC