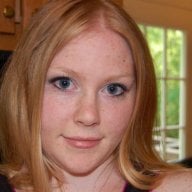 Joined

Feb 10, 2006
Messages

1,751
oh boy....
So I think I am back on the LIW list even though I never really took myself off of it...
Last Saturday I went to a friends wedding reception. He is a marine and is getting shipped off to Iraq in September for his second tour of duty...\Well of course you can imagine there were a few marines in uniform (hot, hot, hot) as u can imagine.
Well at the reception after dinner there was this really HOT marine that I thought I should talk to. So of course I got the groom to introduce me to him...well through out the night we dance and talked and had a really good time and eventually he got relly drunk from drinking to much but I didnt mind because he was a nice guy and he was having a good time with me.
So well throughout the night or whatever he was holding my hand and whatnot it was really really cute...so I think I have a new man...
The downfall...
He is stationed in 29 Palms, California...
He is also getting shipped out for his second tour of duty as well....that scares me.
He also is 19...I am almost 22. He does NOT look 19...he didnt tell me how old he was until after half the night....yeah...
What to do.....so do I persue it and date him long distance and in all reality half way around the world or do I just be his friend. which sucks.....
Military wives...
How do you handle things like this?