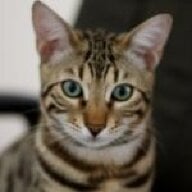 Joined

Jun 4, 2008
Messages

6,893
So I was at my jewelers picking up a couple things, and I saw a really pretty setting in the display. It was a pave four prong ring, very similar to the
WF
Legato Micropave (except without the scalloped basket). I tried it on, loved it, tried on the matching wedding band, but then I made a comment about how even though I love it, when I get a ring I''ll most likely get a non-pave ring because I''d want to be able to just pop it into the ultra-sonic whenever I want. The woman working there (who is either new or really doesn''t know that much about colored gems and diamonds - not the one I usually work with) said, "oh it''s no problem. You can put them in the ultra-sonic as often as you want!"

And then she went on to tell me that one of the other women working there has a pave e-ring and w-band, and she cleans them in her ultra-sonic a couple times a week.


At this point, I''m mentally thinking, WTH? I thought it was VERY dangerous to put pave or micropave rings into a US because the stones can easily get loose and fall out - am I wrong?