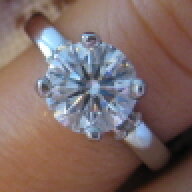 Joined

Aug 18, 2008
Messages

271
I made the trip to Atlanta yesterday to compare the Michael B Petite Princess (2mm), the Michael B Regular Princess (2.2mm), and the 1.9mm Michael B Trois band. I having narrowed it down to this in choosing my wedding band, however still a few question remain.
First, I am trying to decide whether the 2mm Petite Princess or the 2.2mm Regular Princess looks better with my e-ring.
Then, second, I am also posting pics of the 1.9mm Trois ring as well because, although I wouldn''t consider this because it is too thin, it shows what the side of the ring look like without the V cuts that the princess bands have in it. Michael B is able to make the Princess or Petite Priness with or without V cuts. The pics I have shown of the two princess rings HAVE V cuts on the side, so it give you an idea when you compare it to the side of the Trois that does not have V cuts.
What do you guys think looks better....2mm or 2.2mm Princess, and then should I get that with the V cuts or request to have it made without?
Thanks!!
p.s. This first pic of of the PETITE Princess 2mm (with V cuts on side)