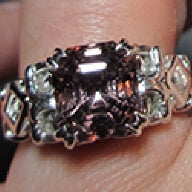 Joined

May 1, 2011
Messages

248
I'm thinking about what metal to go with for my e-ring, and while I won't decide until I have the stone in hand I do have a few questions on opinions.
Is there that much of a difference in bringing out the brightness of a stone by choosing (for example) 18K white gold versus Palladium? My budget won't allow me to consider platinum. I own many marcasite style rings and love patina finishes, so originally I thought I'd want to go with Palladium, but I hear it scratches easy and another person told me that it would make my stone appear darker. (They're not a PSer... and now I don't believe anyone unless they're on this forum.)

Anyway- I've read a lot, heard 18K white gold cracks easier than 14K white gold. And it seems like every 14K white gold piece I've ever had still seems to have a warm cast to it. I don't think I want that this time.
Rose gold would be beautiful, but I just hate it on my skin. I love it on everyone else though
Sketches for my ring are getting underway next week! yayyayayay and your thoughts are appreciated!