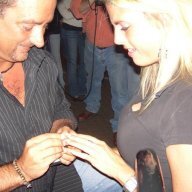 Joined

Apr 9, 2007
Messages

48
So I met my BF for lunch to tan, as usual.... nothing out of the ordinary.
And he''s walkin me out to my car afterwards, and we''re kissin goodbye, etc... and he mentions something about wishing it wasn''t taking so long for the ring to be done (it''s being sized). He said "substantially" longer.... and that''s when he starts messing with my head... wouldn''t tell me what that meant, and that substantially was a relative term, he loves to say relative term alot too, as in it may mean something different to whoever you ask...
ok, now he was hoping it would only take 3 days to have it sized.
So, any ideas on how much longer this "substantial" amount of time could take? lol
I''m anxious!! I just wanna KNOW that it''s in our house!!! lol