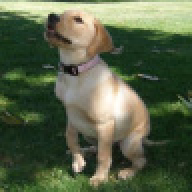 Joined

Nov 27, 2006
Messages

14
Hello. Well, after spending the better part of last year researching and finally finding the perfect engagement ring/diamond for my fiancée, now it''s time to find my wedding band. I like the material properties of Tungsten Carbide, and I''m also partial to the color, but I''m slightly confused by the wide range of prices for similar style rings with similar material chemistry (Cobalt free).
I like the wider, flat, "comfort fit," "pipe cut" style of rings. Like this one from Tungstenworld.com:
But I''ve seen similar rings on various websites anywhere between $99 and $600. Does anyone have any experience with Tungsten Carbide rings? Is there a big difference in craftsmanship (ie. polish, attention to detail, etc)? So far, I like the ring above best, I think. Plus, Tungstenworld.com has some of the better prices I''ve seen, and they offer lifetime sizing and a lifetime warranty on their rings. Seems like a good deal. Anybody deal with them before?
Any other ring suggestions? On-hand pics? Any help or advice is appreciated. Thanks!