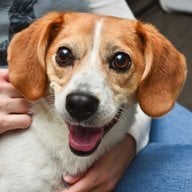 Joined

Oct 29, 2018
Messages

30
At the point where she is getting ready to buy my ring. Spent quite a bit on a really great one for her, so she is willing to up her budget a bit for a good one that I'll be very happy with. Definitely going with platinum, not white gold. Okay with paying the brand name tax.
My preference is for something with an edge to it, no diamonds or markings (logos). Not a fan of the delicate milgrain edges like ones offered by Tiffany. Did like the strong and durable look of the stepped one from Cartier and not having seen it in person yet am afraid it might be too "chunky" in height. Always seem drawn back to the Benchmark one with a knurled edge, again not having seen that one in person either, but it does seem rather unique and "manly" as it reminds me of ratcheting sockets in my toolbox.
Cartier d'Amour wedding band, width 5 mm
[link]
View media item 122724
Benchmark CF665321PT, width 6.5mm
[link]
View media item 122725
My ring size is 9.5 and I'm 6' 265#, so not a string bean. Thought anything larger in width might look too big, anything smaller than 5mm might be too skinny. Certainly want something comfortable.
Thoughts and opinions?