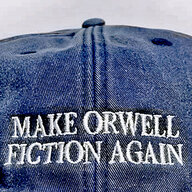 Joined

Apr 30, 2005
Messages

32,808
BBC points out how it is
men
complaining that Clinton's speech after yesterday's big win was full of shouting and (shame shame) anger!
How dare she!

That's not very lady-like!

http://www.bbc.com/news/world-us-canada-35820350
I love watching society improve as it drags itself out of the dark ages.
Sure, the men are kicking and screaming ... now.
But
in time
they'll get over not being the superior group.
Equality will win, eventually.
Other groups in our society are also kicking and screaming as they lose their special snowflake status.