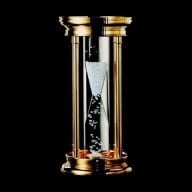 Joined

Nov 6, 2006
Messages

2,398
We have begun the wedding band search - we LOVE the Memoire Single Prong Full Eternity Band from the Purity Collection. Image below.
The Memoire site appears to be down right now, so I need help with a few concerns:
1. The Purity Collection is 99.9% pure platinum. My e-ring is 95%. Can the 99.9% plat. abrade the less pure 95% plat. of my e-ring? Are there any issues with wearing differing platinum alloys?
2. Memoire says they "Micro-Grade" the diamonds, but I didn''t read if they used all ideal-cut stones??
3. Will the eternity ring diamonds from this setting scratch my e-ring prongs? If so, how badly? Is it enough of a reason to keep looking?
Any thoughts about the design, quality, etc. of Memoire would be great! Thanks!