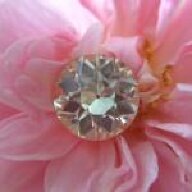 Joined

Oct 13, 2010
Messages

205
Hello all, I could use your collective wisdom. I have in my possession a green tourmaline pear, and I'd like your thoughts on it. I only have a couple of photos from inside, but while I like the color, the tip seems to be always off. Actually, it's more than the tip that's dark, almost half/half a lot of the time. If I want a darker color pear, is this inevitable? Or do some darker toned pears not exhibit this phenomenon? Is it possible that I'm seeing the dark tip consistently just because the lighting in my house sucks? The vendor's hand shots are perhaps a more accurate representation of the color, since they were taken in diffuse sunlight, and they show the opposite, with a darker round end (taken in daylight). What's up with that?
More generally, if you have comments on the color of this stone, I'd love to hear them!
My photos look more yellow than I think the stone actually is from seeing it in the late afternoon overcast light today--lots of yellow in my indoor light.
Finally, can anyone give me an idea of a price range for this color? It's not quite 4 carats. Assume no cuprian or chrome (stone has not been tested).
Thank you, colored stone lovers.
Mine, inside at night:
Vendor's, diffuse daylight: