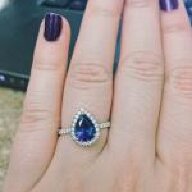 Joined

Dec 9, 2015
Messages

1
Hey guys! Today I wanted to share the experience I had working with Maytal Hannah creating a custom engagement ring for my (now) fiance.
I found Maytal ~8 months before the date I wanted to propose right here on pricescope. (
[URL='https://www.pricescope.com/community/threads/a-year-in-the-making-maytal-hannah-halo-erd-cushion.147719/']https://www.pricescope.com/community/threads/a-year-in-the-making-maytal-hannah-halo-erd-cushion.147719/
[/URL]) I was browsing leisurely and wasn't really sure what I was looking for. I had not a lick of knowledge when it came to diamonds and other precious stones. After some discussion with my girlfriend about what she likes in a ring, (TIP: I would highly recommend this, don't surprise her with what
you
like or what you
think
she likes) I became informed that she didn't even want a diamond! She wanted a sapphire. We looked at some rings on Instagram together and she seemed to gravitate towards pear-shaped stones with a halo setting. At first I had the idea of purchasing the stone and band separately online (
bluenile
, etc) and having them put together at a local jewelry store. I came across the above Maytal Hannah post however and I am so glad I did. I checked out her website (
http://www.maytalhannah.com/
) and emailed her letting her know I was a huge fan of her work and if she was currently available for custom designs. To my surprise she emailed me back within an hour! I informed her of my situation and my wants and need and she responded with a portfolio of beautiful custom work. I knew almost immediately that this was the designer I wanted for my future wife. Over the course of a month we exchanged ideas and I let her know my girlfriend's likes/dislikes while Maytal searched for the proper Sapphire. Once the stone was found she began the creation of the ring. This was the most nerve wracking part of the entire experience but Maytal kept me in the loop throughout the entire process. Almost three months to the day I ordered the ring it had arrived. I can not even explain the feeling I had when I saw the ring, it was everything I had possibly hoped for. I will forever remember the tears in my fiance's eyes when she said "yes" and first saw the ring. She adores it and we receive compliments on the design daily. For all those interested in choosing a sapphire as an engagement stone I would highly recommend it! Any questions or comments I would be happy to answer. I just wanted to throw a shout-out to pricescope for making my ring shopping experience enjoyable and to Maytal Hannah for creating the best custom engagement ring I could have ever asked for.
And of course, the pictures
Custom Made 1.9ct Pear, Blue Sapphire, Halo/Micropave