Martin at USA certed diamonds is a true gem in this industry. His patience and the time he took to carefully select the perfect diamond in the price point I was looking for.
After searching for weeks throughout online stores and various diamond dealers in the city, I stumbled upon Pricescope and once i discovered USA certed Diamonds office was near my home I immediately gave him a call. Martin and I had a 15 minute chat on what specifics were important to me and where I should be focussing my budget on for best value.
After sending through several options, Martin highlighted one stone in particular. I took too long hesitating whether i should be buying an online diamond (it isn't easy dropping thousands on a picture and a certificate) but when I decided to go for it, it had sold. Martin nontheless restarted the search and with only 3 days remaining to my planned flight found me an even better one!
Diamond arrived one day before my flight, and it was even better than I imagined. Got the diamond set in a custom ring with some family friends and finally popped the question. My fiance absolutely loves it!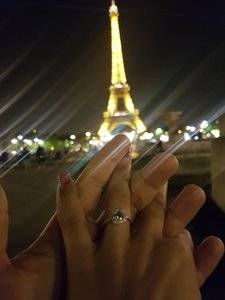 Thank you so much Martin, and we consider ourselves lucky to have run into you. We look for ard to recommending you to all our friends and family and will be calling you for future work.