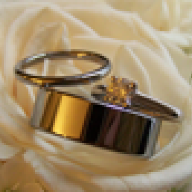 Joined

Mar 17, 2008
Messages

802
My husband and I were married in NYC on Friday, April 3. A couple months ago I posted a desperate topic asking for photographer recommendations, and I got a couple great references. I wound up going with 5 West Studios, and I have to say that I could not have made a better choice. Spencer Lum was absolutely AMAZING. We got a couple preview photos and I am just in love! So thank you, CDinNYC for the first req, and Scarlet16 (because I took your photographer!). I highly, highly, highly recommended him!
As for the day itself, I am so happy that we did it the way we did. It was very intimate (we eloped, just the two of us!), affordable, special, and perfect. The dress didn''t fit how I wanted, the flowers weren''t what I wanted, I wanted my hair down but it was POURING so I got it put up... but still, it was a beautiful day. I am so happy to be his wife! I have absolutely no regrets, and now we are finally married!
Here are a couple of my favorite shots!