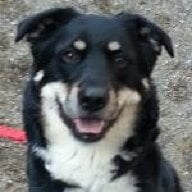 Joined

Apr 27, 2007
Messages

1,541
Hi all! I didn't meet my 11pm bedtime goal last night. I went to bed at 1 and then Lily woke me up at 3:30 for her middle of the night potty and food break (her clock says its morning and time for breakfast). I couldn't get back to sleep after I got back in bed and ended up watching the clock for at least an hour. I was so sleepy after dinner that I sat on the couch for a few minutes and woke up an hour and a half later! I don't think bedtime at 11 is going to happen tonight either, uh-since it is already after 11. We had spaghetti and salad for dinner and didn't get to walk because of rain. It's supposed to rain for the next few days. I've been thinking about buying an elliptical machine for exercise on days we can't walk because of weather. The treadmill hurts my knees & hips, but I've read that the elliptical is easier on your joints. Anyone use one?

marcy - your dinner sounds tasty. I need to make homemade sauce for our spaghetti rather than being lazy and using the canned kind all the time. When I first started going to my eye dr, I took the pair of glasses in that I was using for him to check and he confirmed that they were the wrong prescription, and so were my contacts. A bunch of people at work have started going to him too...he's going to think he's being stalked by my office!

sharon - have fun skiing! Glad your weather has improved.

Have a great day tomorrow!