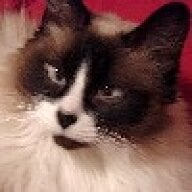 Joined

Feb 28, 2007
Messages

2,146
Finally, I have found time to play with my new camera and was able to take a few more pictures of the garnet. I figure this will be a good opportunity to ask you all for setting suggestions. My budget can be stretched up to $300 for this project, but since I paid less than $200 for the stone, I do not want to go higher. BB and I agree that yellow gold would look best, as he mentioned setting a similar stone in white gold, which did not seem to look right. What was nice is that he sent me a gold color temp setting, so it is easy to see what it would look like in a gold setting.
Today, I sent an e-mail to
WF
and
GOG
for some ideas. My budget is rather low, so I do not forsee being able to go with any of their settings, but thought they could provide vendor suggestions. Marie from
GOG
was the first to respond and said she could get me prices for setting I am interested in from this vendor:
http://www.uniquesettings.com/
However, if any of you have suggestions, that would be great as well. I am looking for the stone to be set as low as possible. Its measurement comes to 7.3, though BB suggests that I go with 7.5 mm mounting because he feels that many stock mountings are a little bit smaller than advertized and since his stones actually have a crown on them, a little bit larger mounting would probably work best.
Here come the pictures...