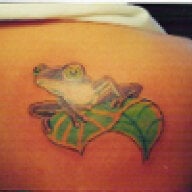 Joined

Dec 12, 2008
Messages

10,614
I need some new foundation but haven't bought in a looong time. The last I bought was a Jane Iredale compact of pressed mineral powder, and while I still have some left, I want to get something new. That powder is expensive and even though I was "matched" in the office of the skin place that sells it, I don't think it is a super close match to my skin. (which of course I didn't really notice until I'd worn it a couple times) I thought about buying a few different sample sizes off ebay of the different shades that might work better for me but man I hate feeling like I'm throwing money away on stuff that doesn't work for me. I have some weird shade of skin or something..it's like pulling teeth to get a close match to my skin. When I used to tan it was easy but it's been years now and I still can't find the right shade of pale for me.

The closest place around here for me to go is Clinique, about an hour away. The Jane Iredale skin place is in the same city. There used to be a Prescriptives in the mall there, and I was matched twice and both times different colors, and both times I didn't like it. And of course, I can buy online (I thought about trying one of the MAC foundations..) but it's hard to judge color on the monitor.

I'm oily, icky acne skin and was told since I blush easily I probably have rosacea. (tho I thought that was something different but who knows) I can't for the life of me figure out the tone/undertone of my skin..my veins look blue and I burn easily so I figure cool, but everything looks so pink on me no matter how I blend it into my neck. My face is darker than the rest of me..kind of ruddy I call it.

Does anyone have any tips or tricks to buy foundation without spending a bunch of money on the wrong shades? In the long run, I don't care if it's expensive to buy a bottle or a jar or whatever, so long as it's the *right* one.

Oh, and do I need a primer and finishing powder??