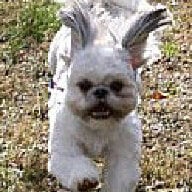 Joined

Jun 30, 2010
Messages

717
I'm sorry for this huge rant, but I'm really upset right now.

Many of you probably know that I have had a lot of job drama in my life lately. I made a thread about my last job, and I made a thread about my new job situation. I was finally offered a job in a city that's about 1.5 hours from my current city, so my fiance and I decided to move. It seemed like the perfect opportunity for me to learn a lot and then move into a higher position, even though I am a bit overqualified for this job, and even though the pay is lower than anything I've ever gotten in this field.

My fiance and I have spent several weekends traveling to the new city, and we have put down large deposits and arranged movers (more deposits), etc. We have given notice to our current landlord that we will be out of here in a week now, we have thrown away tons of stuff so that we can fit everything into the new apartment, and we are set to move in less than a week! We are supposed to sign the lease in just a few days.

Mind you, I received the signed offer letter from human resources over a month ago now, and returned it with my signature the next day. From what I understood, this was a done deal. In fact, the person who made the offer (someone in charge of opening this branch) really didn't want to give me much time to think about the offer, and he made it sound like they wanted to seal the deal quickly. I had wanted a full week, but he had said that they would have to start getting ready to call other people by then, in case I turned it down - like they he was in a major rush to hire someone fast.

This Monday, I got a call from someone regarding my training there. They suddenly told me that I will have to travel to the other side of the state for training in two weeks, which had never been mentioned to me before. In fact, my offer letter specifically stated that orientation would take place within the same area of my new job, and that travel would not be reimbursed (since it's so close) - making it seem like that was the *only* travel that was required. Anyway, for my birthday, my fiance had splurged and gotten us these really awesome, really expensive concert tickets for that week, so that money was basically thrown down the drain. If I had known any of this, he wouldn't have gotten the tickets, or he might have even gotten some for where my training is taking place (assuming he could get out of work early that day). I was upset, but I figured that it's worth it.

On top of that, they seemed to think that I was going to stay in my current city and commute to this job every day - 1.5 hours each way. Since they didn't realize that I was moving (I told the person who made the offer that I was, but he didn't mention it to the training person who would be one of my big bosses), they thought that I was within the range to drive to the training every day (since my current city is closer to the training area). Now, they have to set up a hotel. Did they really think that I was going to drive that far every day for this job?! Of course, I wouldn't mind commuting during the training period if it were close enough, but it certainly would not be feasible for me to commute from my current city to my new city for work each and every day. I would practically use most of my pay on gas and wear & tear on my car.

Now, late this afternoon, I get an email from my future supervisor (just hired), saying that human resources just informed her that they never received my references list, and that they would like it now. These are the same people (human resources) that signed my offer letter over a month ago! They're worried about this now?! I am about to sign a lease and move across the state in a matter of days!

The problem is that my last place of work was a huge train wreck, and I'm not really in contact with anyone there anymore to use as a reference. I was actually interviewed by this company (actually by the person who is setting up my training) several months ago, for a higher position that I didn't get due to lack of experience, and I gave her a references list back then. I assumed that since I had the offer, they had either already checked my references or weren't going to. Now, the person that I listed as my reference at my last company has left the company too, and I haven't been able to get in touch with her for awhile. I am afraid that anyone else will not give me a good reference.

I really thought that this had all been done before the offer was made. I mean, my start date is in less than two weeks now! I thought that I definitely had the job from the moment I received the signed offer letter, and I can't believe that a company would be doing this now. As a matter of fact, before I accepted, I asked to make sure that the opening date would not be set back at all, explaining to him that I am about to make a huge move and that I wanted to be sure about this position before I started the moving process.

I'm really upset right now, and I don't know what to do!