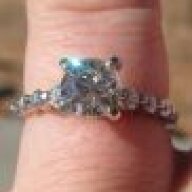 Joined

Nov 20, 2008
Messages

755
I got laid off on Friday!

My company laid off all of the part-time people (I was working 30 hours a week or so) and cut the salaries of everyone else by at least 10%!
I''ve put out all the appropriate feelers of course, and I may have a lead on a pretty good job, but if you could throw a little dust in my direction that I find something soon, that would be fabulous. This really throws a kink in the "saving for the wedding" plans!
Luckily, I work a couple shifts a week in a restaurant, so at least I have enough money coming in that I can contribute to our bills, but there won''t be any extra... which stinks, because our WEDDING RINGS have just finished being customized and now we can''t pick them up from the store because we''re not prepared to pay for them in full yet!
...Which may be a blessing in disguise, because I love them so much I would want to wear mine IMMEDIATELY. Haha.