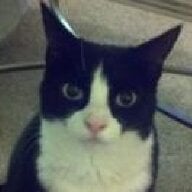 Joined

Aug 8, 2005
Messages

40,198
I am sitting here writing to you from my college town, in a coffee shop, on a comfy chair in a sunbeam. One of my best friends says I am one ex-husband shy of being a crazy cat lady. But I am more like an actual cat.
I've been on these boards for years. I've gone from newbie to novice, to bride, to prosumer… I've experienced so much personal growth that when I look back at where I started and where I am, I a grateful to say that I am a much healthier and more confident person and that PS has helped me in that journey.
The last 18 months have been… a trial. A test of faith in myself, my marriage, my family, my friends and of my outlook on the world.
I lost my job last year. The details are painful so I do not talk about them. And I am not going to here. But I have been out of work since June 2015. For the first 6 months, I was in a cycle of extreme depression, denial, anger, and most of all focus on finding another job as soon as possible. I threw myself into personal projects to keep the anxiety at bay as much as possible. My medications for managing the stress and the depression and the anxiety were increased and in some cases doubled. Financially we were treading water, but only just.
This January My cat Frodo was diagnosed with FIP. He had a fast and horrible decline over 3 weeks that literally shredded my soul culminating his death. It also cost a lot of money, not that I gave a damn, but it was all charged to Care Credit with a 23% interest rate (yes you read that right).
DH suffered a bad injury at work, was out on worker's comp, then was laid off from his job of 6 years n February. He is a property manager and we rented from his company with a 30% rent break. Which is why we could afford to live in the ridiculously expensive Bay Area because the rent discount is part of his compensation package.
When he was laid off our rent was raised the 30% after three weeks (this was generous). Severance was not even enough to cover rent while we moved though. DH got a new job in the East Bay in March (45 minutes from previous home), so we moved there with a 50% rent discount. So we had to move in March and that always costs us $1500 to move. Plus, new rent was, even with the rent break, $2000 a month. In May his new company decided for BS reasons that they would cutoff my health insurance. We appealed and they were unmoved. As you know I have Rheumatoid Arthritis and depression and anxiety. So that was a kick in the pants. I need infusions for my RA every 2 months and I couldn't get those. And my medications for my depression/anxiety cost A LOT of money. So I wasn't able to get my infusions and we had to switch my medications for anxiety and depression, which means that for months I was in hell in terms of mood and anxiety. My body is very medication sensitive and switching off my meds like that was horrible. And the new meds were half as effective as the old so my anxiety and depression have stayed high even after the Russian roulette of mood swings evened out.
Then DH's boss demoted herself and was replaced with an abusive b*tch of a new boss. New boss literally harried my husband, who has several health issues to the point that he ended up in the hospital in August. He was out of work recovering for a total of a week.
For him to remain healthy his doctor had the following restrictions (reasonable accommodation requests) for his return to work:
1. No more than 47 hours a week of work. (not a typo, 47 hours a week).
2. No more than 5 days in a row of work.
3. Two consecutive days off a week.
Seems reasonable, right? Yeah. It took them a week to decide to grant these reasonable requests. A week he hasn't paid for. So he went back to work. For three days. With a cane. Which they asked him about. Then they fired him in a BS excuse on the 3rd day. No severance of any kind. And since we rented from them they raised our rent to the market rate of 4000 immediately. So we had to move. Again. We still owe them for the few days it took us to arrange the move January till now has all been just basic SURVIVAL mode. If the first six months after losing my job were bad, then 2016 has simply been hell.
Now we live an hour east of the Bay Area where the cost of living is MUCH more affordable, 10 minutes from where I went to college. It cost us another 1500 to move. Additionally we had no healthcare as Cobra just for DH cost more a month that we could ever afford. Fortunately, CA has an
ACA
exchange. So we were able to get insurance for $$$$ a month for both of us (we did not qualify for a subsidy, though apparently that might be a mistake and we should appeal). But I am on unemployment. DH is on disability because being laid off like had severe health issues for him. My unemployment runs out first week of January.
Plus, my medications are still messed up for the depression and anxiety and I haven't had an infusion since March for my RA which means I am in constant persistent pain. I had a kidney infection last week I am antibiotics for, but after that clears up at least I can get my infusion. Although the
ACA
health insurance doesn't cover (at all, like I can't even get a pre-authorization) three of my medications.
I've applied for over a 160 jobs since I've been laid off. I've done it all. I've written and re-written my resume. I've talked to a employment rehabilitation specialist. I've played with my interview clothes; I've practiced interviewing 100 different ways. I've had interviews, great ones. Where even the people I interview with tell me they loved me. But I haven't gotten the job. I've applied to Barnes and Noble and been declined. I've applied for seasonal work an been declined. I am at my wits end.
We're at the end of our rope, thousands of dollars in debt due to not having my income coming in for months. I have sold most of my 'non-essential' or 'non-sentimental' jewelry pieces. None of that includes the unexpected expenses like windshields being broken by pinecones ($$) or the tire blow out on DH's car ($$).
And we are talking to a lawyer to sue DH's former employer for disability discrimination because it was VERY blatant in his case. Plus the company, which is new to working in CA, broke several CA laws in how they treated him (I did the research on that myself, this isn't something an attorney told us, although they did confirm it). But as part of his employment DH had to sign several waivers and we may not even be able to effectively sue them for damages thus. Something the attorney is checking on.
Last Tuesday I received notice from the IRS that our taxes were done wrong last year and I owe them 6k more in taxes due ASAP!
And then yesterday, at the Nor Cal GTG I lost my engagement ring.
Yes, you read that right, my ring is gone. And no, I had no insurance. I let that lapse as we have been cutting down expenses.
So that's most (but not all, due to the fact this is a public board) of the bad.
The good? Well, I've written a novel above. And I could write another. But I will keep it brief. Last week, LLJsMom treated me to an antique show where Grace was. I mentioned PS and the customer asked about it and I said that, "PS is the most supportive wonderful community of people I have ever experienced." And… I CAN NOT tell you how much that is true.
I have met most of closest friends on here. And while most of them do not know the WHOLE bloody story (I'm a clam when I get stressed) they have done SO much for me. From surprising me with pretty bedding for the holidays to cheer me up (I'm a home body) even though we have a mutual 'no presents' rule. To listening to me vent. For showing me that breaking things (like rocks and tiles) is a great therapy for my anger. To treating me to antiques shows and lunch, including yesterday's lunch at the GTG. To one amazing friend asking me to sell the Rose Cut necklace listed on DB and preloved for her. Then putting a note in the box telling me that the proceeds of the sale are mine to help with our bills! To sending me care packages with funny books, jewelry. To you all helping me with Grouchy the cat. An offer to look over the IRS issue for me to see if they could help. I can't express how generous and wonderful and kind you all are. The list above is in NO WAY inclusive of it all.
And this morning, Madelise woke up and went to the restaurant we ate yesterday (2 hours from me) to help them look through a vacuum and look everywhere for my ring. Which was nowhere to be found. The ladies I had lunch with sent me kind and thoughtful emails expressing their empathy.
So you think after all that, this morning I would have broken, or shed a tear right? After all it is my engagement ring and I adore it. But all I could think was…. I have a safe feral cat we helped in the bathroom, my husband is next to me, my cats are all unharmed and I have the MOST AMAZING people in my life. I am RICH. Truly blessed in what I found in this community. And ironically though we are a Jewelry board…the loss of my ring. Not devastating. Disappointing, but after all the crap of this year…. Drop in the bucket especially compared to all the generosity, the kindness and empathy of you all over the years, and especially in the last 18 months.
I do love you all. And that… that is a GOOD that is better than ALL the bad.
So thank you PS. From the bottom of my heart. You have given me something I have not had. HOPE.