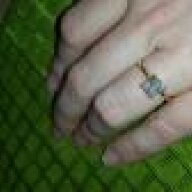 Joined

Dec 19, 2015
Messages

35
Hello All,
I have been scouting wedding bee on some advice and it was mentioned that I could make a post here and maybe get the advice I am looking for. Well here it goes...
I am in the market to have my engagement ring replaced that had been lost while I was pregnant when I couldn't wear it. Fortunately we had insurance on it and that allows for an approximate budget of $10,000 to replace what I lost. I know exactly the style and that is solitaire round. I have the setting selected it is a thin
ritani
plain 18k gold band. What I need is some thought on is the diamond. I am certain I want round. I am certain on ideal/excellent cut. Can I have some recommendations on the other stuff. My interests is in quality and getting a quality as big as I can. So I am aware that some quality specs are just for bragging rights such as super ideal cut. And sometimes the color is less important depending on the cut. Would somewone be able to advise me on some specs? I want quality (without the unnecessary stuff only a diamond expert would notice) but size would be kool too. Basically I don't want to spend the money on an over the top quality diamond that has over the top specs that is smaller but I can get a really BEAUTIFUL diamond also but with some size.
Thank you!