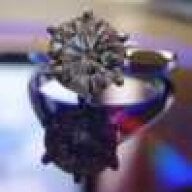 Joined

May 27, 2008
Messages

5,455
Quick explanation of my wedding set:
We started dating on 2/25/00. On 2/25/01, he gave me a white gold band with seven teeny diamonds that he picked out all by himself. Fast forward to 2008, we fianlly got engaged and he wanted me to use that ring as my wedding band. I loved the sentiment and agreed, so I picked out a white gold cathedral solitaire engagement ring and had it shaped to match the band. We both agree that the frozen spit diamonds need to be changed out for
ACA
melee, which Vera said we could do. The only problem is, I am
extremely
nit-picky about jewelry and am not 100% sure the rings look right together. Reason being that the seven little diamonds don''t completely cover the top of the ring.
I''m looking for input as to whether or not they look good together, and if not, what can be done about it. It was my first anniversary (of dating) present and we''re getting married on our ten year anniversary, so I''m pretty sold on using it. I also know he''d be disappointed if I didn''t. I was told by local jewelers that diamonds can''t be added to the sides of it because they wouldn''t be set the same and wouldn''t look nice. I was wondering if a more competent jeweler could do it for the right price, or if even some engraving on the sides would help. Also, the band is only 10k gold. I don''t really care about that though, the color looks exactly the same as my 14k e-ring, and has only been plated once in the eight years I''ve been wearing it. It''s still bright shiny white! I didn''t really want to melt the ring down either, so I can''t think of anything else. Any ideas?
I''ll post a pic of the two rings together for reference. Remember that the stones will be changed out for
ACA
melee!