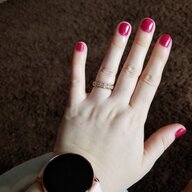 Joined

Aug 7, 2020
Messages

30
Hi all,
New to the boards. I posted over the weekend about trading in my 0.81 ct RB for a lab grown diamond, and
@123ducklings
was wise in saying she would be hesitant to trade a mined diamond in for a lab grown. My husband and I went to our local jewelers over the weekend so I could see what size and shape of diamond I would like to consider for an upgrade and realistically speaking, we can afford to go up to a 1.2 ct RB or oval. We will be going through the store we originally bought my engagement ring from, Mervis, since they offer 100% cred for my diamond toward a new purchase. If I get an oval, I will have to change settings which I have already decided on.
So - with that being said, I'm definitely still learning what to look for and how to evaluate diamonds online. We're working with one of the managers at the store via email and on the phone, and she has been incredibly responsive to my emails so far. It looks like our budget is about $7600 for an oval diamond, and probably up to $8100 or so for a RB diamond.
I'm able to put in criteria for color, clarity, cut, carat, price, depth, table, and symmetry in Mervis. I have been reading about HCA score - is it worthwhile to pay for additional calculations?
A couple that I'm preliminarily considering:
Oval:
RB:
Any thoughts or recommendations moving forward would be much appreciated.
Thank you!