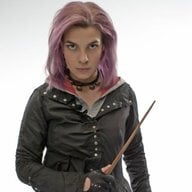 Joined

Dec 27, 2017
Messages

490
I am pondering my next purchase (will do a separate thread about that), and was in a local jewelry store to try things on this afternoon. I really didn't stay long, but before I left, I complimented a gorgeous (huge) emerald cut engagement ring. The sales associate who was helping me pulled it out of the case and let me try it.
Behold, 11 carats of emerald cut deliciousness. The center was warm. It's a K. I can't remember the clarity. They had it marked as 300k. I assumed when he handed it to me that 11 carats would look ridiculous on my hand...but I think I could pull this off (you know, in an alternate universe when my garden has a money tree). Size 6.25-ish finger, usually wear a 6.5 for the knuckle, just for reference.
Oh....I should add....that tennis bracelet you see on the bottom corner of the last photo? HOLY COW, y'all. Every stone was 1 carat and IF. I did not get a photo b/c I was rushing to pick my kids up from school. But DAMN.