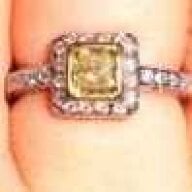 Joined

Mar 13, 2007
Messages

513
Hi everyone. I finally signed up so that I could join the fun. I''ve been lurking on this forum ever since I bought a canary diamond ring 3 years ago. My latest purchase (last week) is the channel set round .33 carat semi-eternity ring from Tiffany and Co. set in platinum. I had always wanted something from Tiffany and Co., and I had also just ordered a custom Simon G. semi-eternity ring of baguettes set in pink gold (don''t have it yet) and decided that the stack ring I wanted to go with it should be from Tiffany''s. I got in my car and made the 1 hour trip to King of Prussia in Philadelphia to make the purchase. I only had the ring for a couple of days when a box arrived addressed from Tiffany''s. Here the sales associate sent me a sterling silver Tiffany and Co. pen! She remembered I had told her that I was in nursing school, and she thought I''d get a kick out of writing with the pen during my classes. I feel like a celebrity with my new ring, writing with the pen. I even went on to the website and ordered the matching pencil for when I take tests!

I got divorced recently after being married for 20 years, and since then I''ve been buying myself jewelry. When I was married, the only diamond I had was a .33 carat round set in a tiffany style yellow gold 4 prong setting with platinum prongs. My husband never bought me any other jewelry, and I never bought any for myself. But I''m almost 43 years old now, and life is too short to go without having something pretty to look at on my hands and wrists. The only thing I have that I can''t see (except in the mirror) is my 1 carat round studs set in 4 prong platinum baskets. Don''t wear a pendant. Since my separation 3 years ago I have added to my jewelry collection:

The new Tiffany ring

The diamond studs

2 and 1/2 carat round line bracelet semi-bezel set in 14 karat white gold

3/4 carat cushion cut fancy yellow diamond bezel set in 18 karat yellow gold, with a platinum halo setting. The round white diamonds in the halo and down the sides of the ring are set flush.

Longines Dolce Vita diamond/steel watch with blue MOP face and small seconds

David Yurman toggle sterling silver link bracelet with 18 karat yellow gold closure link

and I''m waiting for the Simon G. ring to arrive, they said it would be 4 weeks, so it should just be 2 more weeks. Then I''m done buying jewelry. I just wanted to make the first post as a way to introduce myself since I''ve been reading all of your posts for quite some time. The people here seem as excited about jewelry as I am. My family doesn''t understand my fascination with it, but I''m sure you do!