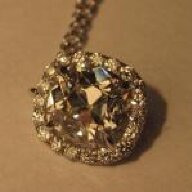 Joined

Jun 1, 2011
Messages

8
I think I may have set some kind of lurking record, but I had to share some pictures of my AVC. I've had it for about a year now (I know, shame on me) and I'm completely in love with it. I have to say a huge thank you to everyone on Pricescope because without all of you I never would have known about AVCs! I'd also like to thank Jon for taking the time to answer all of my questions and for making it unbelievably easy and stress-free to purchase a diamond, sight unseen, from across the country.
Here's a link to the stone:
http://www.goodoldgold.com/diamond/7107
The setting is from 23rd Street Jewelers in Santa Monica, CA. They were also fantastic to work with and did a beautiful job.
I'm going to attempt to attach some pictures, hopefully it works. She's a little dirty in some of them, sorry!