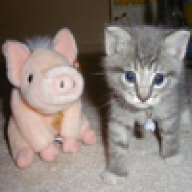 Joined

Nov 28, 2006
Messages

220
I don''t know if anyone has been in this situation, but I could use any tips I can get. Is anyone carrying around hurt or anger towards anyone else? If so, how do you let it go? In my case, it''s towards my mother. I don''t really want to go into it, but she didn''t like me as a child. She resented me for having a great relationship with my father and blamed me for the break-up of the marriage (they''ve been married for 30 years; they just don''t talk anymore). She would do insane things like tell me I''m fat all the time, and then if I lost a pound, she''d try to have me committed into a hospital for anorexia. And since this is a jewelry forum: my mother knew how I hated jewelry, particularly yellow gold and my birthstone, and I remember many holidays where gold or birthstone jewelry was all I got while I watched my brother open a pile of fun presents. Then I got told she couldn''t afford a b-day present for me that year because the jewelry had cost so much.

The problem is that it affects me. Before my mother decided she hated me (I''m not exaggerating. She told me this all the time), I was a happy go-lucky child. I don''t want to be one of those people who blames everything on their parents, but I''m carrying around a ton of anger and bitterness, and I think it''s causing me to be an angry, bitter, sarcastic, pessimistic person.

I''m told I should let it all go. But how? I''ve told myself I forgive her. For the sake of her not keeping me away from the rest of my family, I''ve tried to have a friend type relationship. I''ve tried reading the Bible. I''ve tried watching Dr. Phil. What can I do? I can''t seem to let it go. I wish not seeing her anymore was an option, but she still has leverage over me because my dad and brother still live with her and she''s my link between me and her relatives (who to this day think I was a troubled teen because when I don''t do what she wants the first thing she does is pick up the phone and spread vicious lies to family and neighbors).

I''m sorry to be such a Debbie Downer. I know I''m lucky in so many ways, but I''m struggling with this.