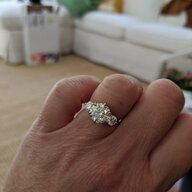 Joined

Jun 20, 2013
Messages

4,482
4ever|1454706042|3987342 said:

Sorry I've been a little MIA.

I'm not sure if I like rose as a middle name, it is very girly and very popular for a mn at the moment. I feel like Althea is already very feminine by itself, I wouldn't mind something a bit less girly as a mn.
I am thinking over your other suggestions, nothing is really clicking for me at the moment but I'm waiting for something to grow on me. I am very indecisive. I also go through periods of thinking Althea is a really weird name and other times I'm like " yep, that's totally her name". Urg! This would have been much easier if DH and I had the same taste in names.
My husband and I came to fisticuffs over names. LOL! I loved Max, hated Maxwell. So we named our son Maddox and we call him Max for short. Our daughter's name is Astrid. I love unique names. But holy S*** did we argue for 9 months over them.
One of my very stylish friends named her daughter Darby Rose *********. So classic and elegant. Drooling over that name....