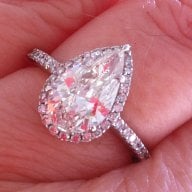 Joined

May 23, 2010
Messages

6,731
If the Bush Administration lost many more emails and many used private email servers, why is Hillary crucified for the same thing?
http://www.snopes.com/g-w-bush-lost-22-million-e-mails/
)
During the course of a Congressional investigation it was found that many Bush White House staffers (including then-Deputy Chief of Staff Karl Rove) had conducted official business via private e-mail accounts on a server owned and maintained by the Republican National Committee. Then it was revealed that as many as 22 million e-mails sent and received via these private accounts "were not preserved" in accordance with the Presidential Records Act of 1978, which requires that all official communications be archived and accounted for.

In plain terms, some 22 million e-mails had been deleted, though the White House described them as "lost" or "missing" — another apparent point of comparison between the Bush and Clinton e-mail scandals. However, at least some of the 22 million "lost" Bush administration e-mails (unlike Clinton's 30,000) were eventually "found."

To put it more accurately, a large number (it's unclear exactly how many) of the messages were recovered from backup storage systems by technicians as a result of a deal struck between the federal government and two nonprofit groups that sued for release of the e-mails via the Freedom of Information Act. It may be impossible, ultimately, to restore all of the deleted e-mails due to funding limitations, and to date none of the recovered messages has been made public because they're still under review, but the fact remains that not all of them were permanently lost.

As in Clinton's case, the Bush administration e-mails were sought as evidence in government investigations. No no charges were filed and no criminal wrongdoing was found in regard to Clinton's handling of e-mails. Bush aides were found in contempt of Congress for not complying with subpoenas in the U.S. attorney firings investigation, but no punishment was handed down.


Under the Bush administration, 87 people died in 39 attacks on various embassies and consulates. So why was Clinton subjected to 8 Congressional "investigations" for one fatal attack?
Excerpt:
Garamendi also understated the number of deaths. In the 20 incidents with at least one fatality, the total death toll was 87 -- quite a few more than the 60 Garamendi cited. If you only count those at embassies and consulates proper, the number of deaths drops to 66.

http://www.politifact.com/truth-o-meter/statements/2014/may/12/john-garamendi/prior-benghazi-were-there-13-attacks-embassies-and/
If you ask me, the Republicans have been smearing Hillary for all these years because she is a
strong woman.
And that makes the boys' club angry, and vengeful.
If you eliminate (and you should) this propaganda from her record,
do you still have to "hold your nose" to vote for her? I don't think so.