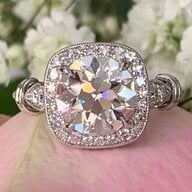 Joined

Jan 11, 2006
Messages

58,487
After reading Dee Jay''s men''s watch thread and reading some of the 2007 wish lists, I have a couple of questions. I have no idea what THE most favored brands of watches are for women. Obviously Rolex, but I really like some of the Ebel and Concord watches. I don''t care if they are quartz either.

But here is my biggest dilemma. If getting a 14 or 18k gold watch, for some reason I really think the yellow gold ones are richer looking, whereas I am almost wearing all white metal jewelry now.

I cannot pay $5000 for a stainless steel watch either. I''d rather have gold if I get into that kind of price range.

So what brands do you like and would you do white gold or yellow gold?