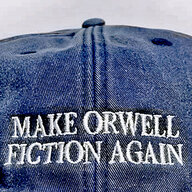 Joined

Apr 30, 2005
Messages

28,991
Thanks all for posting your personal experience.
But my question was ... why do/have ANY women care(d) about this?
Few have attempted to just answer the question.
The posts almost suggest this issue was not real, rather imagined up.

Please explain what you see as the reason for this unreasonable and unrelated attitude since only a handful of women can commission one-off haute couture from exclusive designers.
99.99999% wear off the rack mass-produced clothing.

The upset reaction is only reasonable for the 0.001% of multi-millionaire women wearing truly unique one of a kind garments.

I Love Lucy wouldn't have made a skit about it if it wasn't common.
Last edited: