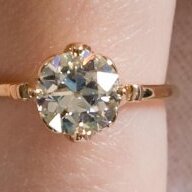 Joined

Mar 23, 2009
Messages

140
I am leaning towards getting an L colored OEC, and I cannot decide whether to set it in yellow gold or rose gold. Are there any pros or cons I should consider? I am not setting it in yellow or rose gold to disguise the color--I like more yellow diamonds. I want it in yellow or rose gold because I like the warmer look.
Rose gold would be a very unique look, but I want to make sure it would look good with my stone. It''s hard to find pictures of rose gold rings period, let alone with an L colored diamond! I like yellow gold, and I think it would be gorgeous. But, sometimes it can look dated (though, I am getting a rather vintage styled ring either way).
So, gimme your input! What would you do?