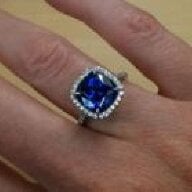 Joined

Sep 17, 2010
Messages

744
I'm thrilled to show you my new necklace! I had Courtney Poole Pendergrast design and hand make this piece for me with some of my existing stones.
The kunzite is a 13.29ct modified scissor-cut cushion from AJS Gems. I purchased it a few years ago and it took me a while to decide how I wanted to have it set even though I knew I wanted it to be a necklace.
The 2 OEC diamonds (.16ct and .36ct) were in a ring that was my grandma's. A while ago, I had them set into a rose gold pendant, but it just didn't "work" - I felt the pendant didn't have any presence and I never wore it. So I added those two diamonds to this project.
The lavender freshadama pearl is from Pearl Paradise and is about 8mm. Aurum Studios had a matching strand of 4.5mm lavender pearls that matched precisely and these are in the two draping strands along with the tiny white seed pearls.
I asked Courtney to design me something very girly and sweet. Almost "precious" but not overly saccharine. I said I wanted something that was evocative of a ballet slipper with satin ribbons and bows. I'm not really a girly girl, but this kunzite was just asking to be set in a super girly piece I thought. The really cool thing is that this piece can look sweet or punk rock depending on how it is worn. With a blouse it's sweet, with a black leather vest, it's more punk.
Another cool thing about this piece is that it's a transformer. The dangling diamonds, kunzite, and pearl are detachable and can be worn on a diamond bail on a chain or strand of pearls for a different look.
I'll post some finished pictures and some process photos...