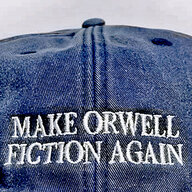 Joined

Apr 30, 2005
Messages

32,288
As I've posted I teach guitar.
One of my students is a 13 year old I'll call Sam.
After 18 months Sam's doing splendidly.
Mom and dad are over the moon happy and often invite me over for dinner.
Wonderful people, great friends ... blah blah blah.
Win Win all around.

In the last year I've bought a couple fancy new guitars and am on the mailing list of a big music store chain.
I get catalogs from them and just got one with all high-end gear ... multi-thousand dollar guitars, etc.
It's fun for drooling and dreaming.
I'm sure Sam would enjoy borrowing it for a few days.

Should I just lend it to him and say nothing to mom and dad, or should I ask for their permission?