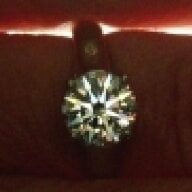 Joined

Jan 13, 2006
Messages

24,431
I was originally going to post this in packrats thread on Acne, but decided this was something that could benefit everyone, not just those with skin problems. However, for those of you with skin problems, this video may be encouraging.
https://www.youtube.com/watch?v=LwrdZcUIuT4
I was recently introduced to this wonderfully natural (non manufactured) probiotic, (pronounced keh fear) and started drinking it just over a week ago. I was not planning on posting about it at all at this point, but when I started reading about how it is known for healing acne, I thought of packrat (and I) and wanted her to be able to start investigating it now in case she would decide to start drinking it. Then I thought I might as well just share now for anyone who is interested in naturally healing themselves/wanting to take charge of their health. The benefits from this fermented milk drink can be innumerable. Just a few are:
lowers cholesterol (long story short, lady I know started giving this to her husband when his doc wrote out the prescription for a statin. He never took the med. When two different blood tests revealed he had lowered it substantially, the doc conceded it had to be the kefir)
acne
IBS/constipation
acid reflux
potent antibacterial
improves bone health
helps with allergies and asthma
The list could go on and on. It truly seems like a wonder drug, only that's the best part. It's not a drug (and usually tolerated by those that are lactose intolerant). It doesn't try to mask/alleviate symptoms of a health issue. It actually heals the body so the symptoms go away. My only question at this point is, why did I never hear about this from all the many doctors I've seen over the last several decades? I could answer that, but I'll refrain. Those that know why don't need the answer, and those that don't most likely wouldn't believe it.
I will post a link on it, there is so much to explain. There are literally tons of informative links and videos about it. Youtube is great for watching people make it and learning how to strain it, what it should look like, etc. This particular website is a wealth of info, however I would not recommend trying to purchase grains from him. People are now having trouble not receiving their orders (after $ is sent). Some say he is very sick and that's why, I don't know.
http://users.chariot.net.au/~dna/kefirpage.html#kefirnovice
Here are a bunch of recipe ideas.
http://www.culturesforhealth.com/milk-kefir-recipes#condiments
I purchased my grains from this gal.
http://www.kefirlady.com
This place gets stellar reviews as well.
http://www.amazon.com/1TBSP-Active-Organic-Kefir-Grains/dp/B007GGRJTG/ref=sr_1_fkmr1_1?ie=UTF8&qid=1451680712&sr=8-1-fkmr1&keywords=kefir+grains+infusion+tea
It is super easy to culture, anyone can do it. It tastes like a very mild buttermilk, only with just a hint of effervescence. You can drink it plain, or flavor it with all kinds of things like extracts, fruit peels/juices, teas, etc. You can make smoothies, dressings, shakes. Use it anywhere you might use milk or buttermilk. I am doing cow milk from the store until I can find a raw milk source. (and please don't tell me not to drink raw milk because it might kill me, it won't. I have been there more than once or twice and done that. It's terribly healthy. But thanks for thinking of me
) You can also do goat milk, coconut milk and there is also a water kefir. I personally won't do that one, as I am wanting to get away from sugar. Truly realizing how toxic it is, besides being addictive. And we wonder why it's popping up in all sorts of foods it shouldn't be in....
I would not recommend drinking the store bought kefir, as from what I have learned, they pasteurize it and therefore kill off all the good guys that make it so healthy. And to a great degree that is understandable, as the yeast could/would be causing the cartons to explode. Besides, that stuff is super expensive. With a one time purchase of grains (make sure you get grains, not starter, and they will literally last forever if you take care of them), and the cost of a gallon of milk, you are set for days!
I am also wanting to learn about fermented foods, they are supposed to be very healthy/healing. I wish I had found all this a long time ago, but as they say, better late than never. And as always, I love sharing good and helpful things with others. So here's to a healthier and happier 2016!
ETA If anyone has a success story I would love to hear it.